Monthly events:

Messy Church: Third Friday of each month. 3:30 - 6:00

Crafts, Celebration, Food. All Ages.

Children must bring an adult with them

Men's Group:

Meets monthly , second Monday (not July and August) 6.45 - 9:30 pm

Food, speaker, discussion.

CAMEO (Come And Meet Each Other) Women's Group

Meets monthly on the first Thursday of each month. 7:30 pm - 9:30 pm
We are a friendly Church, and are always glad to see newcomers or visitors.
Our congregation come from a variety of traditions and enjoy both modern and traditional hymns and songs.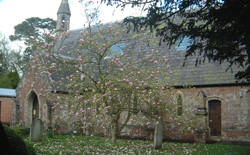 Please email for further information: gdgreen@talktalk.net

The regular Sunday services are:
1st Sunday 8:00 am Communion
9:30 am Cafe Church (all-ages)
3rd Sunday 8:00 am Communion
10:00 am Informal service
6:30 pm Evensong
2nd, 4th and 5th Sundays 10:00 am Communion
Wednesday 10:00 am Communion