Monthly events:
Messy Church: Third Friday of each month.
3:30 - 6:00
Crafts, Celebration, Food. All Ages.
Children must bring an adult with them
Mother's Union
Meets with Ottery MU on the third Tuesday of each month 2:15 - 4:15pm in Ottery. Lifts available.
Men's Group
Meets most months on a Monday 7:00 - 9:00 pm
Food, speaker, discussion. Look out for posters for the next event.
CAMEO (Come And Meet Each Other)
Women's Group 7:30 pm - 9:30 pm
Meets monthly on the first Thursday of each month.
Simple meal, speaker, discussion
We are a friendly Church, and are always glad to see
newcomers or visitors.
Our congregation come from a variety of traditions and enjoy both
modern and traditional hymns and songs.

Children and their parents feel very much at home in the monthly Family
Service and enjoy their own teaching on all other Sundays .

A bi-monthly magazine is delivered free to every home in the parish.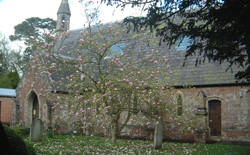 Please email for further information:johnann.pangbourne@virgin.net

The regular Sunday Services are as follows:

10:30 am 1st Sunday Family Service
(All Other Sundays)
3rd Sunday
10:30 Informal service
2nd, 4th and 5th Sundays
10:30 am Parish Eucharist